Garment & Textile Manufacturing

Market: Direct To Garment T-Shirt Printing
Business Requirement:
Design, color management and output to specifically enhanced inkjet printers that print directly to garments (T-shirts, hats, hoodies, etc.)
CADlink Custom Solution
A complete design and production software package that supports the easy output of designs to garments. Includes industry leading "white ink" support that automatically primes/provides underbase to designs that are printed onto colored garments. The largest user base worldwide in this particular segment.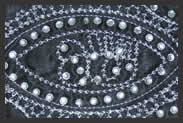 Market: Rhinestone Application For Garment
Business Requirement
A software application that can create templates for various rhinestone patterns, accommodate different shape and size rhinestones for application to garments of different types.
CADlink Custom Solution
Generate a Rhinestone "fill pattern" within shapes. The "fill pattern" has to avoid "overlaps" where a simple placement algorithm otherwise would cause rhinestones to overlap on tight corners etc. Our "node and distance" routine automatically places rhinestones at each corner of shape and places stones equidistant between corners. UI includes ability to select Rhinestone type from drop down list and placement not only determines where the Rhinestones will be positioned on the template but also auto determines the hole diameter and depth that the template holes need to be engraved.