Consumer Products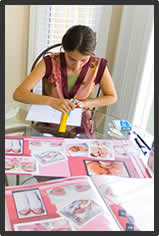 Scrapbooking / Arts & Crafts
Business Requirement:
Very easy to use software for the "hobbiest" sold into the arts and crafts market for the creation of "scrap books", done at home, school etc. A popular way to celebrate occasions or chronicle events, etc.
CADlink Custom Solution:
Cutter driver support purposely limited to support cutters sold by OEM partner. Basic design and cutting tools.