Custom Web Product Fulfillment
Remote to Central Production and Delivery Technology


Offer "Online fulfillment to your Customers"
Do you want to use the www. to connect customers, remote locations, dealers and franchisees to your custom product facility or to your products? CADlink has the solution for you.

Business Requirement:
You are a business that has a central production facility that produces customizable/personalized goods or designs either for remote branch offices/franchises, for dealers/resellers or directly to consumers. The customer base you service is geographically dispersed but efficient, cost effective and timely order placement, production and delivery is essential to the profitability of your business. In many cases customization of each individual order is necessary.
You want to offer a web-based service to your customers where they can order from a catalogue of products, customize the product to suit their needs and produce the product either locally or at your central facility.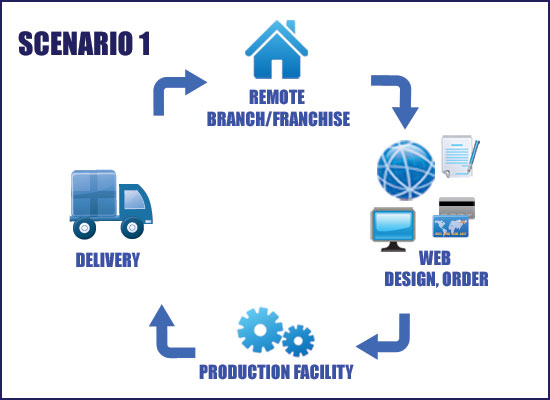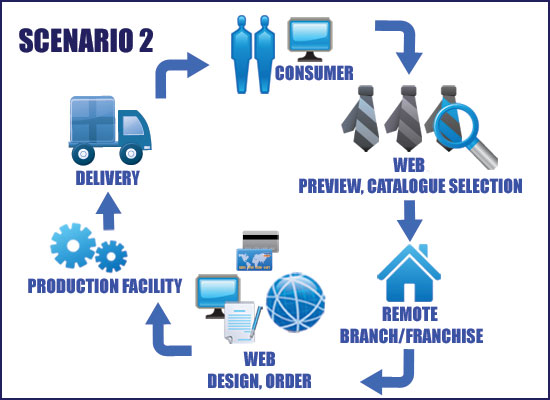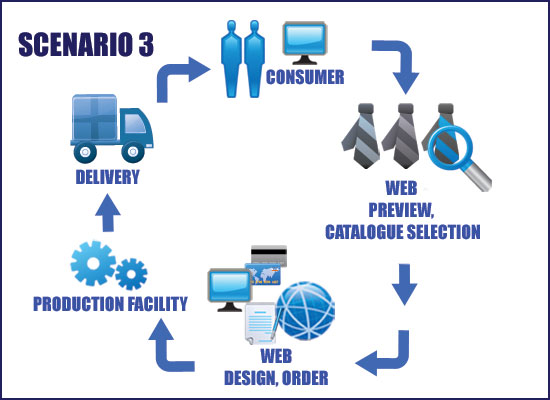 The Technology Solution:
An easy to implement, manage and use web-based process that enables your organization to implement any one of the business requirements outlined above. A completely customized solution that addresses the unique needs of every remote to central production environment.
Benefits:
Ability to accept customized product orders from remote sites distributed over wide geographic areas and process/produce orders in a central location.
Entire process is bound together via internet.
Custom software interacts explicitly with custom designed web-site and associated file server
Corporate customer can specify access/privilege functions as well as administrative priveleges to each individual remote work stations.
Automated pricing schedules can be built-in based upon product design requirements.
Configurable pricing schedules , remote order locations can be granted access to pricing database for local, pricing adjustments.
Configurable and selective design interface allows corporate customer to provide end-user with easy to use design parameters.
Order tracking. All custom orders are provided unique job numbers and can be easily tracked from initial to completed production and delivery.
Security of design and production work via proprietary file formats that are only accepted by the participants within the process chain.
Configurable and selective design interface allows corporate customer to provide end-user with easy to use design parameters.
Types of Businesses that could benefit from this technology:
Any type of design to production B2C or B2B web order fulfillment workflow. Especially ones that require specific custom types of production. Including (but not limited to):
Garment decorating
Digital printing
Sign making
Engraving
Routing
Custom vehicle graphics/tinting, etc.
Typical Design and Architecture Specification:
This is basic overview of a typical custom solution that can be developed. It consists of four primary components that can be used or not used, mixed and matched as to the particular requirement of your specific workflow.
"Administration Control Panel"
"Corporate Edition" Design Software
"OEM" Design Software
Production station(s)
Using these four software components in particular configurations, the solution can manage the process of ordering and/or designing products, modifying them at the desktop level and then completing the ordering process by submitting the modified products to the OEM web sitefor either review, processing or both.
"Administration Control Panel"

The Administration Control Panel operates on a web server. The web server URL would be that of the OEM. The Control Panel allows the OEM to display and categorize the different products that are offered to its customer base. Products can be set-up by design type. For each design type, categories of different design styles can be established. For each design style, different design templates can be setup. Each design template can have custom controlled options that are specifically created and established in the "Control Panel" software.

For each design template, base pricing options can be established. Also add-on options can be implemented that can affect the total price of the selected design template.

The "Control Panel" manages the customers that purchase the OEM's products. Shipping and billing information is stored. For each customer, users can be established and the user interface personalized. Login information as well as password access to the web site is stored. Pricing information can be established for each user. Control is also available for the user to establish mark-ups for products.

The "Control Panel" also can manage replaceable clipart. The clipart are designs that are downloaded from the web site to the OEM Design Software. The customers downloading designs from the web site can replace the clipart with other clipart that has been set-up for that design OEM.

The "Control Panel" also acts as a central location where submitted orders and orders for review are managed. After a design is submitted for review or ordered, the complete order form and modified design file can be used at the corporate level to begin the manufacturing process. A search for an order can be done by order number, company name, city and order status.

Corporate Edition Design Software

"Corporate Edition" is used to build design templates that can be downloaded to the OEM Design Software. These design templates are saved in a proprietary file format only to be used in the "Administration Control Panel" or the "OEM Design" Software.

The "Corporate Edition" is also used to upload clipart to the Administration Control Panel software on OEM web site. Clip Art Attributes plus the anchor point for replacement are assigned during the upload process.

OEM Design Software

OEM Design Software is installed on a local users personal computer. This is a dongless product that is web activated via a registration page. The OEM Design Software allows the user to browse and then download the designs made available on the OEM website. Once the designs are downloaded from the web server, the user can modify the text or other design elements in the file. The user can also either remove or replace clipart that is already included in the design. The replaced clipart is accessed through the OEM website. Once the modified design is completed, an order proof in PDF format can be generated for the user to provide to the client. The design file can also be uploaded to the Administration Control Panel software on the OEM server for either review or for processing. The submitted design files are in a proprietary file format and the Order Form is in a PDF format.

Production Station.

The final, and key element in fulfillment of the order. The production station drives whatever type of output or production device is required to produce the completed product. The production station can reside solely in a central production environment that is the hub for all of the files coming in from remote locations. Alternately there can exist multiple production stations in multiple locations with files being sent to each electronically via the internet. Production stations can drive an assortment of devices that include desktop to wide format digital printing devices, "x, y and Z" axis cutting devices, rotary as well as laser engraving devices and a variety of additional types of machinery. Call us for information.