Custom Software For The Automotive Industry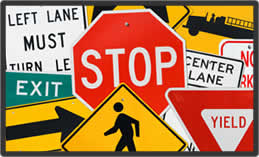 Market: Traffic Signage
Business Requirements:
Software supplied to US State DOT offices for designing and manufacturing traffic signs. Software also provided to private suppliers of traffic signage who design and manufacture
CADlink Cusom Solution:
Customised design and print/cut package for easy creation of DOT compliant traffic signage. Includes DOT compliant "Highway" font and clipart library of traffic sign templates. Also includes specially designed "street sign wizard" that parametrically lengthens sign blank when a street name causes text compression to exceed a predefined limit.
Market: Vehicle Paint Protection & Window Tinting Films
Business Requirement:
Customers have created templates that when used to cut thin protection material, will fit accurately onto various parts of an automobile. Paint protection films typically get installed on the front hood of an auto , headlights and other places including lower extremities of doors and around wheels where stone chips etc. can damage the car paintwork.. Window tint films are applied to the inside of vehicle windows to reduce sunlight and provide privacy for those inside the vehicle
CADlink Custom Solution:
Cadlink provides a minimal cutting interface so users can import and cut manufacturers' templates in a secure workflow that protects the manufacturer from having their designs "pirated" by others.